While our favorite places to explore and the treasures we all love have had to close temporarily across our dynamic destination, we wanted you to know our hearts remain open. 
Right now, it's important we all heed the advice of public health officials: avoid non-essential travel, practice social distancing and good public health hygiene!
Los Angeles has always been a virtual city, a city of the future. Like most of the rest of the world, your first experience with Los Angeles was a favorite film or TV show. Or maybe it was watching the Rose Parade on a below-zero New Year's morning from the Midwest. So, as we weather these times, join us in supporting the amazing museums that have stepped up to offer free online tours of their collections. Order from the restaurants like the iconic Apple Pan who are offering delivery for the first time in their 73-year history. Rewatch your favorite LA films – we challenge you to find the bloopers in "Pee Wee's Big Adventure" and groove to the 70s humor of "Car Wash".
When the time comes, we will welcome you with open arms, and until then we'll keep sharing L.A.'s renowned spirit of creativity, optimism and positive vibes. We can do this.
Let's all stay safe and get through this together.
With Love,
Los Angeles
EAT + DRINK

dineL.A. To Go

Support local restaurants with delivery and take out.

ARTS + CULTURE

Virtual Museum Experiences

Gain access to the city's collections.
THINGS TO DO

Catch Up on LA Movies

Watch our favorite L.A. movies and docs.

THINGS TO DO

Businesses Giving Back

Practice social responsibility while physically distancing.
Dear residents: This may aid you with your food needs during this challenging time.
THE ORIGINAL FARMERS MARKET
The Original Farmers Market announces that beginning today, Monday March 16th, its operating hours are being modified due to the impact of the COVID-19 virus. The hours for the immediate future are:
Monday–Saturday: 9 a.m. – 6 p.m.
Sunday: 10 a.m. – 6 p.m.
In keeping with City of L.A.'s directives related to restaurants and bars in Los Angeles, the Market's bars have been closed and all Market dining tables and chairs have been removed. The Market's restaurants remain open for take-out and delivery service and our grocery locations are stocked with fresh food and here to serve the community.
As news of the current health crisis continues, the merchants of The Original Farmers Market are here, are open, and are pleased to continue to serve as a resource for the community through this evolving situation.
All Farmers Market merchants are taking the utmost precaution when it comes to hygiene, cleanliness and wellness. The health, well-being and overall satisfaction of our customers remains the number one priority.
An array of fresh grocery items and pantry staples, including produce meat, poultry, eggs, milk products, cheese, fish, canned goods, beans, rice, tea and spices, pasta and healthy snacks are readily available from the following grocers:
-Du-par's Bakery -Farm Boy Produce -Farm Fresh Produce -Farmers Market Poultry -Huntington's Meats & Sausages -Kaylin and Hobb's Pickles -Magee's House of Nuts -Magic Nut and Candy Company -Marconda's Meats -Marconda's Puritan Poultry -Michelina Bakery -Monsieur Marcel Gourmet Market -Monsieur Marcel Seafood Market -T&Y Bakery
For shoppers who prefer to shop from home, they can order a variety of grocery and prepared meals delivered through our grocery delivery partner mercato.com. 
The Original Farmers Market is proud to continue its 86 years of service to the community. For regular updates on our hours, services, and delivery options, please visit our website at farmersmarketla.com.
Get out there this weekend Park La Brea!
Check out this amazing restaurant by The Grove for Park La Brea!
Let us know if you try this recipe!
Check out the article here!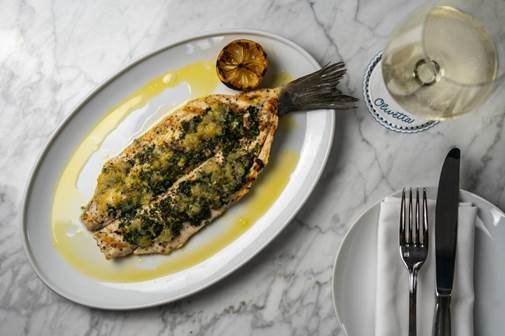 Hi Park La Brea!  Enjoy the Vanity Fair art show here in Los Angeles.
Check out this article for tips and recipes!
Check out the featured exhibit at the Getty Center.